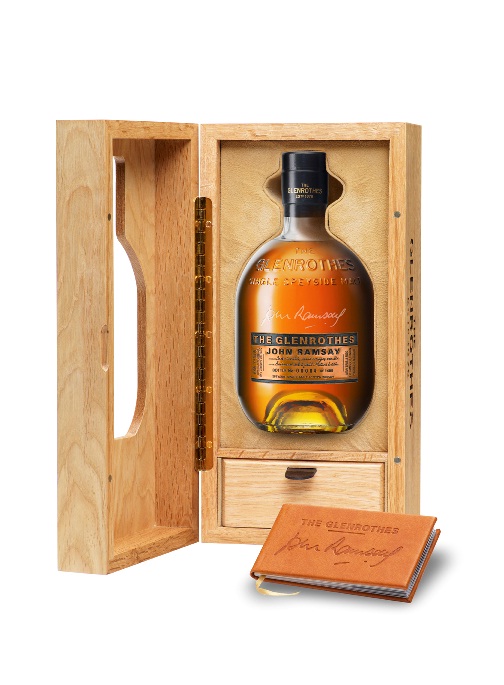 After over forty years in the industry, John Ramsay retired last month. He has been 'Malt Master' for The Glenrothes since the early 1990s and the genius behind the whisky's exceptional quality. His signature has been on all fourteen labels since 2004 and so to commemorate his peerless contribution to The Glenrothes we asked him to create one more exclusive expression that he would be proud to sign his name to for the very last time.
As John himself puts it, "The time has come, after 43 years of making Scotch whisky, to hang up my lab coat. To mark this, I've been asked to produce my last bottling of The Glenrothes; one I would be happy to sign off as my farewell to this exceptional single malt. My legacy, if you like".
At the beginning John's main concern for this venture was that over the past 15 years we had perhaps plundered the best available casks. However, upon revisiting the warehouses at Rothes he found a number of casks that had reached their peak thanks to a few extra years of maturation. John identified a pocket of second fill American Oak sherry casks from Vintages ranging from 1973 to 1987 which make up The Glenrothes John Ramsay.
John's tasting notes for this expression emphasize the redolent of dark chocolates, blood oranges and vanilla on the nose with a great balance between oak and fruit leaving the whisky very mature and extremely rich.
When asked to describe the making of his final expression he said, "The attention to detail that goes into every bottle of The Glenrothes is enormous – from the choice of barley, through careful distillation and gentle maturation to rigorous cask selection. This one, my legacy, has been a genuine pleasure to work on too and it is never a lonely task, with many kindred spirits involved from start to finish".
This expression is limited to 1,400 bottles and will be available from September.
Available at http://www.fransmuthert.nl/