I'm eagerly awaiting the new addition to my whisk(e)y collection. I've ordered the Laphroaig Triple Wood a few days ago from the Laphroaig Friends Shop. Hope it arrives soon!!

Here are the tasting notes…
Colour: Bright gold
Nose: At 48%, straight from the bottle, the initial flavour is quite sweet with a gentle mixture of sweet raisins and creamy apricots with just a trace of the dry peat smoke at the back, the smoother nutty flavours combine all these flavours into one smooth, syrupy whole. With a touch of water the peat smoke comes to the fore and masks the gentler fruitier notes. Even with the maturation being carried out in 1st fill bourbons, quarter casks and sherry butts, the intense bonfire ash smell of the earthy peat cannot be masked.
Body: Powerful yet with a creamy consistency.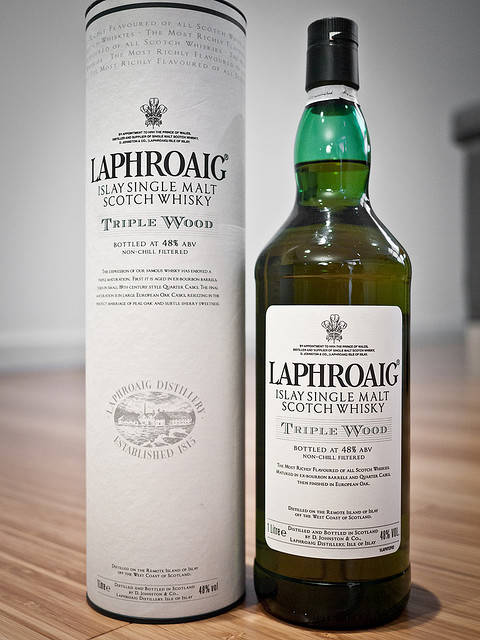 Palate: With no water, a large initial burst of peat belies the slight lack on the nose but is gentled on the tongue by the creamier flavours of vanilla and fruit with just a suggestion of sherry sweetness. With a trace of water the peat reek is gentled, allowing the more complex flavours of citrus fruits and spices to come through. A slight tang comes from the European Oak balancing the creamier American White Oak.
Finish: Mouth filling and extremely long but balanced by the sweet smooth caramel taste.